Einleitung

Dieser Artikel ist auf englisch verfügbar:
Trouble Ticket System with HarePoint HelpDesk
.
Details über die Installation und Konfiguration von
HarePoint HelpDesk for Sharepoint
können in der HelpDesk Dokumentation gefunden werden. Wenn Sie jedoch "hier und jetzt" ein System zum Erhalt und der Verarbeitung von Kundenanfragen benötigen, können Sie dieses innerhalb von 10 Minuten mit HarePoint HelpDesk for Sharepoint einrichten. 5 Minuten dauert dabei die automatische Installation des Produkts und weitere 5 Minuten werden für die Konfiguration benötigt.
Bitte beachten Sie, dass eine SharePoint Version vorinstalliert und konfiguriert sein muss: Microsoft Office SharePoint Server 2010 oder SharePoint Foundation 2010.
Im Grunde besteht die Installation und Konfiguration von HelpDesk aus 4 einfachen Schritten:
Installation der HarePoint HelpDesk Lösung;
Erstellung einer SharePoint Seite mit dem mitgelieferten Template;
Einstellung der Benutzerkonten und Zugangsrechte;
Hinzufügen des HarePoint HelpDesk Web parts zur gewünschten Seite.
Installation und Konfiguration
Installation der HarePoint HelpDesk Lösung
Laden Sie die HarePoint Setup Datei von der Homepage.
Starten Sie den Installationsprozess (Setup.exe) auf dem WFE oder APP Server. Hier werden Ihnen die Lizenzbedingungen und Systemanforderungen gezeigt und Sie müssen eine oder mehrere Seite/n wählen, auf der Sie eine Unterseite mit dem System erstellen wollen.
Erstellung einer SharePoint Seite
Nachdem HarePoint HelpDesk installiert ist, wird das "HarePoint HelpDesk" Template, bei der Erstellung einer neuen Seite, in der Templateauswahl verfügbar sein. So muss lediglich ein Seitenname und ein Seitenverzeichnis festgelegt werden.
Zum Beispiel kann die Seite "Help Center" genannt und im Verzeichnis "site name/help" gespeichert werden.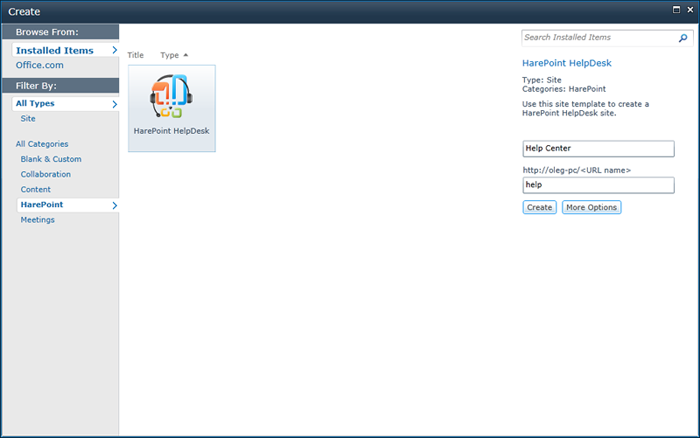 Festlegen der Zugriffsrechte
Um mit HarePoint HelpDesk Anfragen zu arbeiten, muss ein Nutzer folgende Rechte haben:
Listenrechte:
Hinzufügen von Artikel – Hinzufügen von Artikeln zu Listen und Hinzufügen von Dokumenten in Bibliotheken
Bearbeiten von Artikeln – Bearbeiten von Artikeln in Listen und Bearbeiten von Web Part Pages in Dokumentenbibliotheken
Löschen von Artikeln – Löschen von Artikeln von Listen und Löschen von Dokumenten aus Bibliotheken
Ansehen von Artikeln – Ansehen von Artikeln in Listen und Ansehen von Dokumenten in Bibliotheken
Seitenrechte:
Ansehen von Seiten – Ansehen von Seiten in einer Website.
Öffnen – Öffnen einer Website, Liste oder Ordner um die darin befindlichen Artikel zu erreichen.
Um die spezifizierten Rechte zu erteilen, führen Sie folgende Schritte aus:
Gehen Sie zu den Einstellungen der aktuellen Rootseite.
In der Sektion "Uses and Permissions", klicken Sie den Link "Site Permissions".
Klicken Sie nun auf "Premission Levels".
Erstellen sie ein neues "Permission Level" und markieren Sie die zuvor dargestellen Rechte.
Nutzen Sie nun das erstellte 'Permission Level", um Nutzergruppen die benötigten Rechte einzuräumen.
Hinzufügen des HarePoint HelpDesk Webteils zur gewünschten Seite
Nachdem die HarePoint HelpDesk Lösung installiert ist, wird das "HarePoint HelpDesk Web part" unter den Web parts verfügbar sein. Wählen Sie nun einen Ort und fügen Sie es einer Seite hinzu.

Nachdem der Web part hinzugefügt wurde, können Sie es konfigurieren.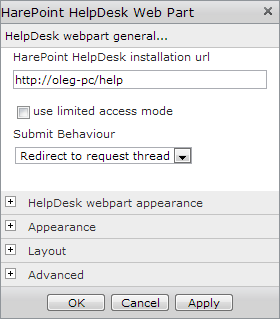 Beachten Sie, dass Sie den Web part auf einer Seite, zum Beispiel der Rootseite, einrichten können, aber auf einer anderen Seite installieren. Dadurch kann das HarePoint HelpDesk Dashboard auf jeder Seite dargestellt werden, auf der HarePoint HelpDesk aktiviert ist.
Zusammenfassung
Mit der Zeit stehen Organisationen vor der Notwendigkeit, aufkommende Fragen aufzuzeichnen. Egal ob dies Kundenanfragen an den technischen Support sind oder Meldungen von Mitarbeitern, die von Problemen berichten. In jedem Fall haben Sie mit der HarePoint HelpDesk Lösung für SharePoint ein Mittel in Ihrem Arsenal, ein schnelles Ticketsystem einzuführen und Ihre Probleme zu lösen.
Das System ist flexibel konfigurierbar und lässt sich genau Ihren Bedürfnissen anpassen.
We are sorry that this post was not useful for you!
Let us improve this post!
Tell us how we can improve this post?
(Visited 1,356 times, 1 visits today)