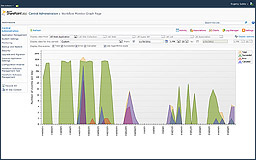 In large organizations the number of simultaneously executed workflows can run into the thousands. And very often these organizations are faced with the problem of monitoring workflows. This product has been designed to be a complete solution for all workflow monitoring issues.
HarePoint Workflow Monitor solves the following tasks:
Overview. Using the product, administrators can quickly view all workflows and all active instances of workflows for any scope, e.g. whole farm, specific web application, site collection, site, or list.
Errors. Using filters, even among thousands of workflows, you can see all the workflows which have been finished with a chosen status in two clicks.
Freezes. Some organizations have 'forgotten' workflows that run on a farm for months or even years. Often, such workflows can be identified and stopped only using this product. Searching for such processes can help considerably in detecting errors in workflow algorithms.
Singularities. With the help of the product's charts, you can easily identify abnormal activity. For example, an increased number of running workflows or of workflows finished with errors.
HarePoint Workflow Monitor key features:
displays all workflows and all active workflow instances at the level of a farm, site collection, site, or list;
displays workflow associations and their details for multiple sites on a single page;
finds all workflow instances for the selected workflow associations easily;
shows workflow execution steps for a specified workflow instance: obtain a list of activities which were executed and find out which activity is producing an error;
accumulates statistical information to detect bottlenecks: workflows stats can be stored for years; advanced charts enable visualization of workflow execution;
filtering, sorting and grouping features: fast and valuable analysis of workflow usage;
easy deployment, reliable operation and great productivity.
HarePoint Workflow Monitor – the world's only product that can give a clear understanding of what is really going on with workflows in complex and large-scale environments.
This product is designed for the SharePoint 2010 workflow platform and it works with all editions of SharePoint 2016, 2013 and 2010, both on SharePoint Server and Foundation.