HarePoint Workflow Scheduler for Microsoft SharePoint is a free software product that allows automatic execution of SharePoint workflows on a schedule. This product is designed for the SharePoint 2010 workflow platform. With its help, you can automate recurring business processes, debug your workflows with various sets of parameters, and test server performance by running workflows on a regular schedule.
The product supports declarative workflows (created in SharePoint Designer) and Microsoft Visual Studio workflows. It supports both site and list workflows and allows launching of a workflow for every document or list item, for manually selected items or for items selected by CAML query. HarePoint Workflow Scheduler is fully compatible with Microsoft InfoPath, and has the capability to pass pre-defined parameters.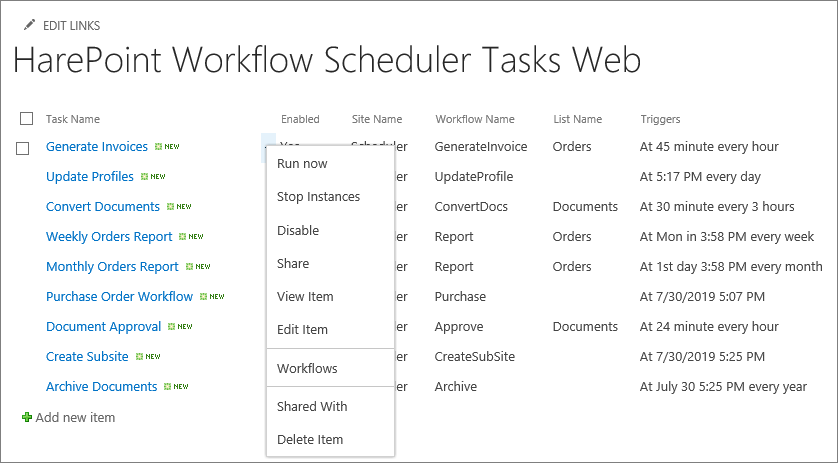 HarePoint Workflow Scheduler features
Start site and list workflows manually or automatically by schedule.
Start list workflow for all documents or list items or for those selected manually or by CAML query.
List views support. This is extremely topical for lists such as Tasks where you may select, for example, a "Due Today" view so that the workflow would process only tasks for today, rather than all the ones in the list.
Set workflow launch parameters, including parameters described in the InfoPath form linked to the process.
Adjust flexibly the autorun schedule: by day of the week or month or daily at a specified time, etc.
Receive alerts or daily or weekly summaries by email or via SMS containing workflows results.
Specify accounts under which the workflow can be launched.
HarePoint Workflow Scheduler is designed for Microsoft SharePoint Server Subscription Edition, 2019, 2016, 2013, 2010, SharePoint Foundation 2010, Microsoft Office SharePoint Server 2007 and Microsoft Windows SharePoint Services 3.0. The smart installation wizard helps you install the product in any environment in minutes. The product do not require any post-configuration, so you will be able to begin use within 5 minutes after download.
We also recommend you to try our HarePoint Workflows Extensions product, which offers over 300 activities for SharePoint workflows, including activities for SharePoint administration, document management, creation and conversion, Active Directory integration, working with SQL databases and web services, networking and others. Together, these two products allow you to solve complex SharePoint automation tasks and automate business processes without programming.
Licensing Information
HarePoint Workflow Scheduler is free for commercial and non-commercial use.
Here you can download the free version of HarePoint Workflow Scheduler.

Goran Efremov
Software developer

The purpose is to send an email to the responsible people 2 days before the expiration date. I am a fan of simple solutions. All you need is one-step declarative workflow (created with SharePoint Designer) and a workflow scheduler. This is when HarePoint Workflow Scheduler comes in handy.

Learn more...

What users say