If you a looking for simple but functional ticketing system for SharePoint, you are at the right place. This product was initially released in 2011, and has found itself in use in organizations of all kinds, including Fortune 500 companies. It works right out of the box. No coding. No integration. No complex settings. Do you need e-mail support, ticket routing, SLA and escalation, templates, and reports? We have that built in. There is no reason to waste your time, download the product today and tomorrow you'll have HelpDesk in production.
Benefits
No integration required. Native SharePoint solution, built on SharePoint technologies.
Works on intranet and extranet sites, supports 3rd party authentication and allows branding.
You don't need SharePoint developers or a guru to deploy and use this product. It is as easy as creating a new site from a template.
Product license lasts indefinitely.
Key features of HarePoint HelpDesk for SharePoint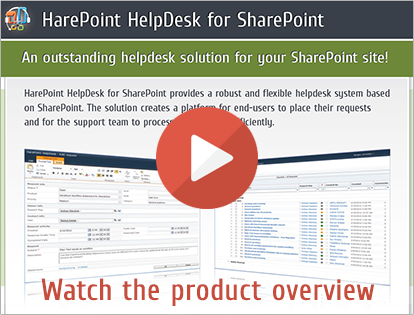 Tickets from web, e-mail or phone
In addition to submitting requests through a form on a web page, requests can be submitted via email and users can continue the conversation either through the form or by email without needing to visit the site. Technicians can create tickets manually on behalf of users who have made contact by phone or fax. After creation of a ticket, the user can contact the HelpDesk operators via web form or email.

SLA and Escalation Rules
The product contains a configurable catalog of services and service levels with automatic monitoring. The built-in constructor allows easy creation of customized rules for quality control, escalation of incidents, and sending of notifications concerning violations or likely violations of a given SLA.

Ticket routing
Incoming requests can be automatically assigned to technicians according to request properties such as request category, priority, the user's service level agreement level, and others. In case of manual assignment, the product has a timeout setting to warn about unassigned tickets.

Logic in workflows
The product's processing logic is contained entirely in standard SharePoint Designer workflows. You can easily customize the ticket processing algorithm, assignment of support representatives, and sending of escalation or notification messages. In most cases, this is not necessary and the flexibility allowed by the product settings is adequate. But you always have this option at hand.

Integrated demo data pack
You can fill your new help desk site with demo data in one click. You'll get a set of tickets in various states, pre-configured products and categories, response templates, etc. This is the most convenient way to learn the product's functionality in your own environment. You'll get a fully-functional help desk site in 10 minutes after product download!

Knowledge base and response templates
Quick response templates shorten response times for frequently repeated or standard requests, and the built-in knowledge base reduces the number of incoming requests by displaying informative articles from the database automatically as the user creates a new request in the web form.

Associated tasks for tickets
Operators can assign SharePoint tasks from a ticket. The ticket will remain in an on-hold state until all associated tasks are done. This feature helps with incidents related to hardware changes, software updates or any other situation where external assistance beyond the duties of help desk operators is required.

Advanced reporting
Helpdesk has a set of reports to evaluate and demonstrate the effectiveness of your support services, assess the quality of the work of individual technicians, and to analyze incoming requests. These reports can be viewed in the system itself or received in scheduled emails.