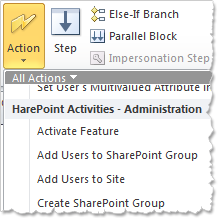 Same workflow tools, more power
Just deploy the product, and your users immediately get new workflow actions in SharePoint Designer. Don't waste time on learning a new platform or new tools. Start making high-power workflows right now. What is the learning curve for use? Find the right action in the categorized list of SharePoint Designer; the parameters are intuitive. If you're not completely sure about something, read the half-page description. It is a matter of minutes, not hours.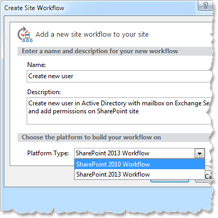 Works with SharePoint 2010, 2013, 2016 on premise
This product is designed for the SharePoint 2010 workflow platform and it works with all editions of SharePoint 2010, both on SharePoint Server and Foundation. The SharePoint 2010 workflow platform is also available in SharePoint 2013 and 2016, and in fact, only this platform is available in the out-of-the box installation of SharePoint 2013, 2016. With HarePoint Workflow Extensions, you can make the same workflows for both on-premise deployments of SharePoint 2016, 2013 and 2010. The product is fully compatible with SharePoint Designer 2010 and SharePoint Designer 2013.
View system requirements of the product

What are users saying
Better control, rapid development, lower costs
Sometimes it happens. You need custom code to do something very special. In this case you may start to code a custom workflow action or even program a workflow in Visual Studio. If you are not familiar with this subject even a simple thing can take a lot of time. The same is true of SharePoint development. Modification or support of such solutions can be complicated and expensive. We offer you an activity which executes C# or VB. Net scripts and an activity to run PowerShell scripts. In this case, there is no need to re-deploy a solution when changes occur – just edit the script code in SharePoint Designer. Focus on your business tasks, not on coding.
Read more about C# scripts, custom actions and Visual Studio workflows

See sample of PowerShell usage to create Exchange mailboxes from workflow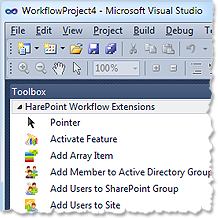 Where you can use the product
You can use product's workflow actions and conditions in list workflows, site workflows and reusable workflows. Likewise in any declarative workflow or any SharePoint Designer workflow. You can use the product's workflow activities in Visual Studio workflows, as well as built-in workflow activities. You can even draw workflow diagrams and design workflows in Microsoft Visio.
See screenshots of product usage in Visual Studio and Visio

See the video with workflow authoring in Microsoft Visio