Discontinued product: no longer developed, sold and serviced
The licenses can no longer be purchased after 7/1/2022.
We guarantee technical support for all licensed products until 7/1/2025.
If you need to get the last available version of the software or have any additional questions, please contact our customer care.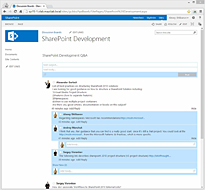 HarePoint Discussion Board provides an ideal opportunity for interaction and collaboration among your team members empowered by discussion threads and feeds that deliver the 'social' advantages to the workplace. Make your users happy with it!
Unlike SharePoint's out-of-box discussion board feature and the range of available third party tools, HarePoint Discussion Board allows real-time discussion by showing all new posts, replies and comments in time of their appearance without page reloading. But the same SharePoint discussion board remains under the hood, so there is no problem with backup, migration, or maintenance. On top of that, you can connect HarePoint discussion boards to any existing discussion boards on your portal and empower them with a great user interface.
HarePoint Discussion Board key features:
Appearance: the solution provides different discussion views and appearance, so you can use the most suitable view for your specified case.
Availability: discussions are available anywhere on your sites - just place the board web part on the required page.
Levels: multiple discussion levels are available; the number of levels may be customized.
Editing: posted messages can be edited in-place or deleted if you don't like them.
Moderation: it is available; moderators are able to approve or reject post in the thread in real-time mode.
Attachments: add any type of attachments to your message; control their upload status in real-time and view picture previews.
Adaptation: existing out-of-the-box discussion board threads can be easily adopted for display with HarePoint Discussion Board.
Compatibility: the product is compatible with Microsoft SharePoint 2016, 2013, 2010, and Office 365.
Check out HarePoint Discussion Board for SharePoint basic features in action!