Discontinued product: no longer developed, sold and serviced
The licenses can no longer be purchased after 7/1/2022.
We guarantee technical support for all licensed products until 7/1/2025.
If you need to get the last available version of the software or have any additional questions, please contact our customer care.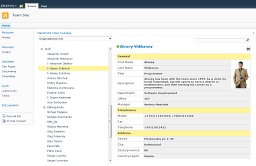 HarePoint User Catalog is a web part that provides an easy to use way to display, navigate and search user information. The user list is presented in a tree view that can be arranged by Organizational Unit, by Microsoft SharePoint site group or alphabetically. The interactive search feature allows users easily to find specified people and contact information.
The user details view allows quick access to contact info, checking of online status and printing of user profile information. The list of properties in the user details view is fully customizable by IT administrators, including options to add, remove, rename and group Active Directory account properties.
This web-part will not only show contact information of SharePoint site collection users, but can also be customized to display information about users from specified AD containers.
To use the HarePoint User Catalog web part, place it on the site where it should be displayed.
Product features:
Displaying of Active Directory and SharePoint users in navigation tree.
Grouping users by site or organization unit, or listing in alphabetical order.
Display user profile information.
Option to  display user's photo either from Active Directory or SharePoint profile.
Define and organize user properties to display.
Search users by selected fields by refining the list of users in real time.
List of users may be filtered individually for each web-part instance.