HarePoint Thumbnails for SharePoint is a solution covers all your needs as a fast and handy preview of SharePoint content, both images and documents. The product allows you to browse content before downloading – a major time-saver that increases SharePoint end-users productivity.
Key features of HarePoint Thumbnails
Instant document preview directly in SharePoint libraries
The solution displays previews of documents and images directly in SharePoint document or picture libraries, so you know the content of the file without having to download and open it. The feature supports previews of the
most common file formats
.
Preview everywhere
HarePoint Thumbnails works for document libraries, image libraries and for search results. All locations where you might need to preview SharePoint documents and images are covered by the product. It is available for any scope: your whole farm, web applications, site collections or a specified site; and it runs on Microsoft SharePoint 2013, 2010.
Adjustable preview settings
Adjustable number of pages in the document preview: show the important content. You can show just the first page or title page, or the entire document. The size of the preview is also adjustable.
How it works
Let's illustrate the product functionality with a short sample. There is a document library with product guides and manuals in the screenshot below: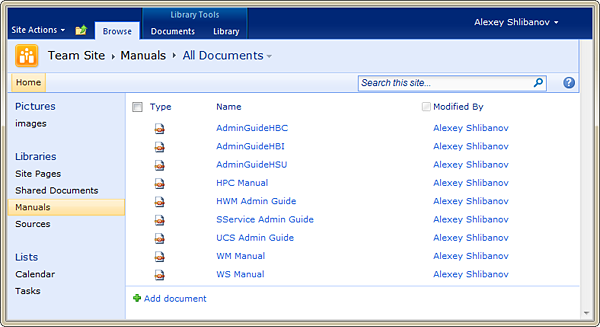 How a library visitor can define the meaning of abbreviations in the document names? There is only one way to do it - download the PDF file, open it and read the full name directly in the document.
HarePoint Thumbnails for SharePoint provides a much more efficient solution for this issue. You just need to place the mouse on 'thumbnail preview' icon and to know what exact product information is contained in the PDF file: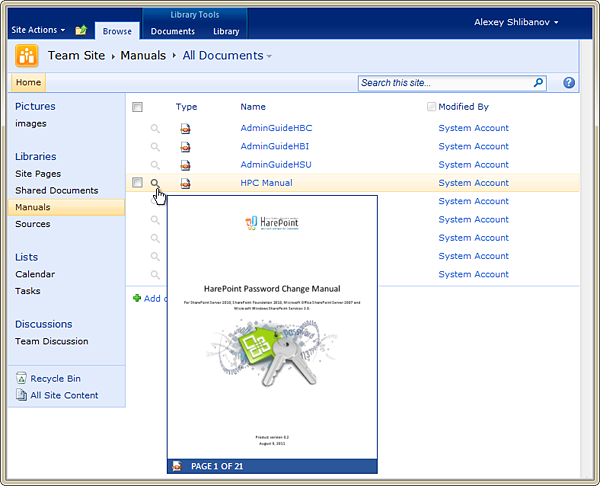 HarePoint Thumbnails for SharePoint is a lifesaver when you are trying to locate a specific document, image or presentation in a large document / image library. Preview SharePoint documents in simply by hovering.

The following files are supported:
Microsoft Office applications (Word (.doc; .docx), Excel (.xls; .xlsx.));
PDF;
Images (.bmp, .gif, .jpeg, .png, .tif and many others);
Web pages (html, htm, mht);
E-mail messages (eml, msg).
Plain text (.txt)
HarePoint Thumbnails for SharePoint​​ evaluation and licensing
You can download the full-functionally 30-day trial to install and test it in your environment. It is absolutely safe and free.
The trial version has no limitations. But if you would like to use HarePoint Thumbnails for SharePoint after the 30-day evaluation period, licensing is required.​​​​​​​​​​​​​​​​​​