Discontinued product: no longer developed, sold and serviced
The licenses can no longer be purchased after 7/1/2022.
We guarantee technical support for all licensed products until 7/1/2025.
If you need to get the last available version of the software or have any additional questions, please contact our customer care.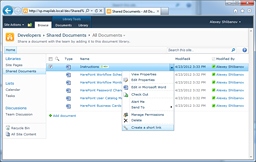 HarePoint Short URL allows users to create and use short, readable links in a SharePoint environment instead of long and unattractive ones. Short URLs can be created for site pages, documents, views and list items.
When should you use this feature? Here is a brief example:
Below is a typical address of a SharePoint page:
http://companyname.com/Partners/custom%20category/
Shared%20Documents/Forms/AllItems.aspx?
RootFolder=%2fproducts%2custom%20category
%2fShared%20Documents%2fPartners%20Overview
&FolderCTID=&View=%8b90C87B40%3dFA02
%2d590E%2dAFBF%2d9A18F0C84CCE%8d
Does it look easy to give this link over the phone, print it in the company's leaflet or put it in Twitter? Obviously not.
With HarePoint Short URL, this page can be accessed with a URL which looks like this:
companyname.com/NewPartner.aspx
HarePoint Short URL features:
easy and fast deployment with a handy Installation Wizard;
generation of short URLs automatically or manual creation using a custom name;
convenient access to feature interface through Site Actions or Items Context menu;
control and management of all links created by users: review, modify, and delete short links;
support of any SharePoint object: site page, document, list item and list item forms (View, Edit);
usage statistics: administrator can view the number of clicks for any short link;
life-time license, one-time licensing fee.
Try HarePoint Short URL for SharePoint 2010 and add a bit of humanity to your SharePoint!