12/12/2018
We would like to present a new licensing model of HarePoint Workflow Extensions for Office 365: the intelligent and efficient solution for workflow authoring in SharePoint Online!
New licensing model includes two types of plans: FREE plan limited to one workflow and a range of paid plans to suit the needs of companies of any size.
With 200+ workflow actions and conditions included in HarePoint Workflow Extensions for Office 365 you can build workflows of any complexity in SharePoint Online environments to cover all your requirements related to SharePoint administration and business processes automation: sites management, documents processing, operations with libraries, lists, emails and images, networking and much more.
Our new subscription plans are absolutely clear and straight-forward. They give you a freedom of choice: whether you want to pay for your subscription on monthly basis or save money with annual purchase. Regardless of your choice free maintenance and updates are included in the subscription for the whole period. Previous licensing model of the product (workflow activity runs have been a subject of counting) required complicated calculations making spending forecasting a rather difficult task. It's not an issue now - users can choose the appropriate flat-rate subscription and plan their expenses for any period of time.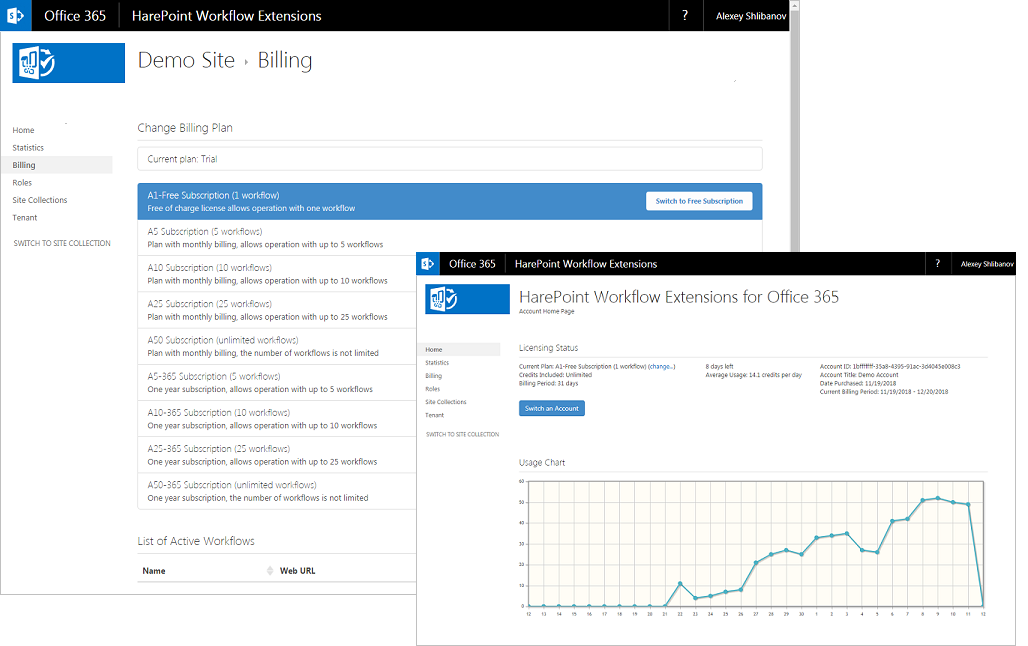 Other great news is a free subscription that allows to use the product absolutely FREE OF CHARGE in your Office 365 environment. No vendors offer such feature, but HarePoint does. We believe that users, who need to build and use ordinary workflows, shouldn't spend their funds for this. Really, HarePoint Workflow Extensions makes it possible to provide such opportunity. There are some non-critical limitations, but all basis functionality is available and you can use the product without unreasonable waste of resources. The overview of the app's free licensing is available in the corresponding article.
We also would like to remind about our HarePoint Workflow Designer - the FREE handy visual editor, that allows you to develop, edit and manage workflows directly in your browser.
You are welcome to review the new licensing of HarePoint Workflow Extensions for Office 365; we will be also glad to answer your questions or get sales inquiries.