08/06/2020
We are happy to introduce a new version of HarePoint Workflow Extensions - an extremely powerful tool that provides more than 340 actions for advanced workflow authoring in Microsoft SharePoint Designer.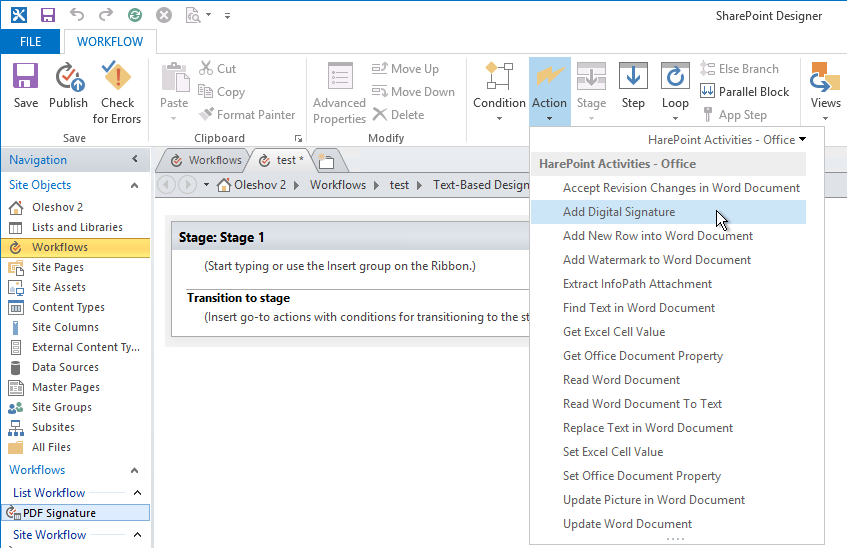 Version 2.18 comes with several new features:
The new Sign PDF Document action that allows collection of signatures by adding an image to the specified file.
Likewise, the new Add Digital Signature action provides the option to digitally sign documents for approval along with other scenarios. Check out the step-by-step tutorial in our blog: Add digital signature to documents using SharePoint workflow.
The new action Set SharePoint List Settings manages additional properties of lists and document libraries.
Send HTTP Request: improved compatibility with outdated environments without TLS 1.2/1.3 support.
There is now an all-day event parameter added in the Update Exchange Calendar Item action.
The HarePoint team is always happy to receive your feedback and feature requests. Feel free to contact us.
You can download the latest version of HarePoint Workflow Extensions or request a live presentation of the product.
Note that we also offer solutions for the SharePoint 2013 workflow platform: for both SharePoint Online and On-Premises deployment.