08/27/2019
We are happy to introduce a new version of HarePoint Workflow Extensions – an extremely useful tool that provides more than 300 actions and conditions for authoring workflows using the 2010 workflow platform.
One of the most popular features in the product is managing Active Directory with SharePoint workflows. Previously, actions for Active Directory were primarily focused on User and Group items. And by adding 5 new actions, we expanded the options to all Active Directory Objects: Contacts, Shared Folders, Computers, Printers, Domain Controllers or any other type of object:
Find Objects in Active Directory by Query
Get/Set Object's Attribute from Active Directory
Get/Set Object's Multivalued Attribute from Active Directory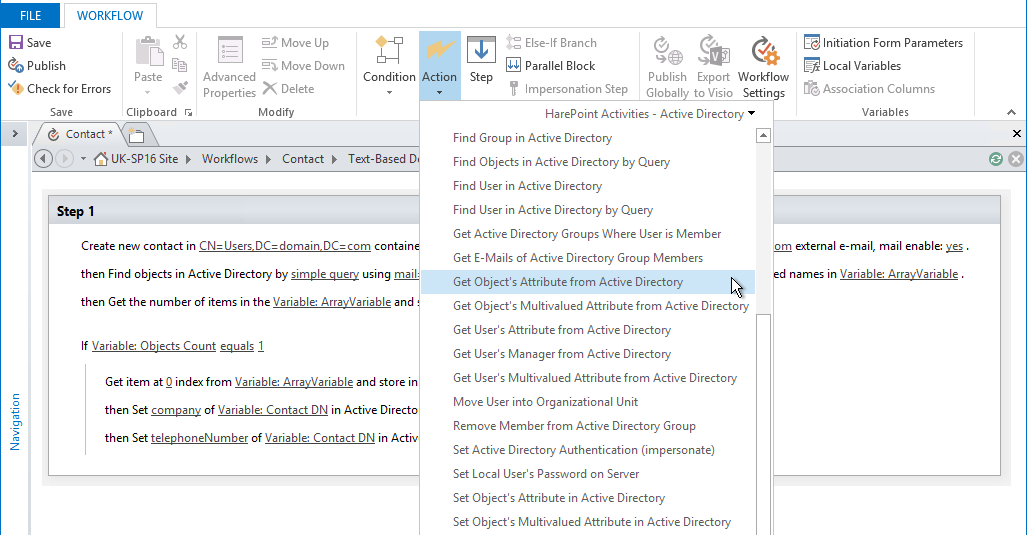 Other updates and improvements:
Create Mail Contact in Active Directory now can create a contact even if the organization does not have Microsoft Exchange deployed.
Get/Set User's Attribute in Active Directory also works with contacts now.
New Get/Set Site Property option: Request access e-mail.
Added ability to send POST request with an empty body in Send HTTP Post Request.
New hidden parameter LogResponse in Send HTTP Get/Post Request.
Delete All User Permissions at URL has been fixed to avoid conflicts with other workflows.
Type editor in Set Object's Multivalued attribute has been changed from TextArea to ParameterNames.
Minor bugfix in Document Conversion Service Worker.
Get Field Value: Fixed getting user type fields.
Fixed autodiscover flow for Office 365.
You can download the latest version of the product from the HarePoint Workflow Extensions page or request a live presentation of the product.
Note that HarePoint also offers solutions for SharePoint 2013 workflow platform: for both SharePoint Online and On-Premises deployment.