02/12/2014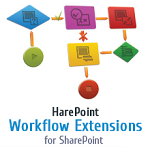 We are glad to announce the new version (v.1.8.) of HarePoint Workflow Extensions has been released!
HarePoint Workflow Extensions is a solution for SharePoint which significantly expands the capacity of SharePoint workflows authoring by providing more 200 ready-to-use workflow actions and conditions in 16 different groups.
Some new workflow activities were added in the product, the most demanded ones are:
You can review the full list of workflow activities included in current version of the product.
There are also a list of improvements and features:
Set User's Photo in SharePoint action now works both with User Information List and User Profile Service.
Workflow actions can work with Excel files using https connection.
Rich text (HTML) support added to Update Word Document action.
The complete list of updates is available at the HarePoint Workflow Extension version history page.
You are welcome to download a new version of HarePoint Workflow Extensions on the product homepage.