10/28/2013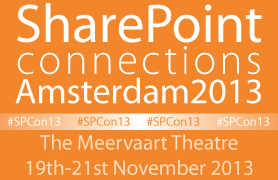 HarePoint will participate in the exhibition that was held within the SharePoint Connections Amsterdam 2013 at the 19 - 21 November, in the Meervaart Theatre in Amsterdam, The Netherlands.
This established conference will offer SharePoint Developers, Infrastructure Specialists, Architects, IT Managers, Business and Power Users sessions about SharePoint 2013 and Office 365 delivered by SharePoint and Office 365 MVP's, expert independent trainers & authors as well as Microsoft Professionals.
HarePoint will present its award-winning solutions for SharePoint: HarePoint Analytics, HarePoint HelpDesk and HarePoint Workflow Extensions, as well as a range of SharePoint web parts and features. We also would like to present our new product - HarePoint Knowledge Base for SharePoint: the efficient solution to build outstanding knowledge management system in your SharePoint 2010 / 2013 environment.
You are welcome to visit the HarePoint booth (#19), where our representatives would like to demonstrate the products in action, tell about functional features of the products, as well as to consult about deployment and licensing.