07/23/2018
We are happy to present a new version of HarePoint HelpDesk for SharePoint - the unique solution for organizing ticketing support service in a SharePoint environment. This 'ready-to-use' product allows you to build and run a ticketing infrastructure with a wide range of features in just a few minutes.
The main news in this latest version is the smart, innovative reporting service, available in the Standard edition of HarePoint HelpDesk. Earlier, the reporting in the product covered basic needs by providing the most frequently required information about tickets, technicians activity and so on. We decided that reporting should be more flexible, data-rich and customizable. Ideally, our product should provide to company's management the complete tool for full controlling of support team activity. And this idea has been successfully realized.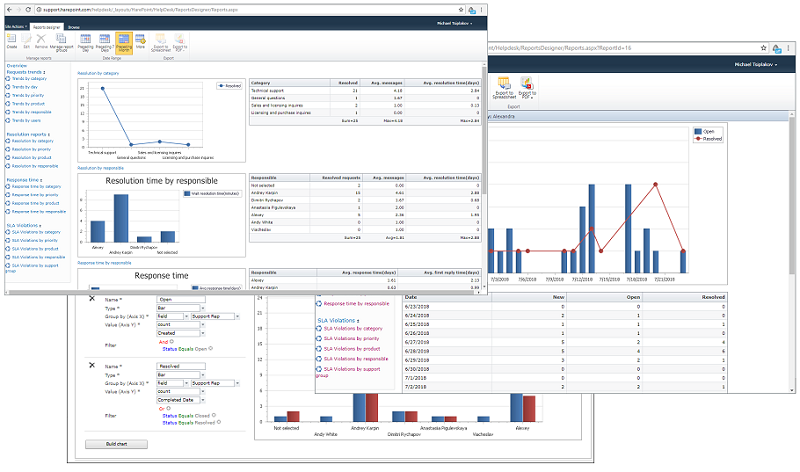 Just take a look to the most important features available in the new reporting:
The reports designer: now you can create fully customized reports according to your exact needs. The reports support custom fields, so any required data from your tickets can be processed and added into reports.
Customizable Overview dashboard: add from 1 to 4 reports to the welcome page for quick access.
Flexible access rights settings: provide access to each report for the authorized person only, or share them for a group of users, or create your own access hierarchy with different access levels.
New useful parameters in the reports: 'First reply time' and 'Waiting resolution time' - available for each technician.
Increased reporting performance: dedicated database for report data speeds up report gathering and processing.
Improved SLA reporting: new parameters 'Overdue by response', 'Overdue by resolution', 'Escalated by response', 'Escalated by resolution' are available.
You are welcome to find the detailed descriptions of new reporting features in the corresponding article: Reports Designer in HarePoint HelpDesk.
Please note that newly-presented reporting features are available in the Standard edition of HarePoint HelpDesk. The Basic edition of the product provides predefined 'built-in' reports only. But the 'Subscription to reports' feature is available for Basic edition users now.
We also would like to inform that a FREE update of the product is available for all user who have 'active' status of their license services (version updates and maintenance). If your license services have expired, you can renew anytime to get the updated version – please contact our sales team for detailed information about license status and renewal special offers. Please note that license renewal provides you one year for product version updates and support services.
You are welcome to update the product on the HarePoint HelpDesk for SharePoint homepage.