We offer four outstanding software products for the SharePoint workflow. You will find a brief overview of them in this article. Moreover, one of them is free of charge!
All our products are designed for empowering the SharePoint workflows:
HarePoint Workflow Extensions
Very often, workflows require integration with external systems, the ability to manage user rights and permissions, and to create, edit and convert documents. To obtain such capabilities in the SharePoint workflows, previously your options were to buy expensive platforms for creating and managing workflows, or develop the missing functionality in Visual Studio. Another option was to engage highly skilled programmers but, taking into account the complexity of the development process for SharePoint, that could be extremely expensive.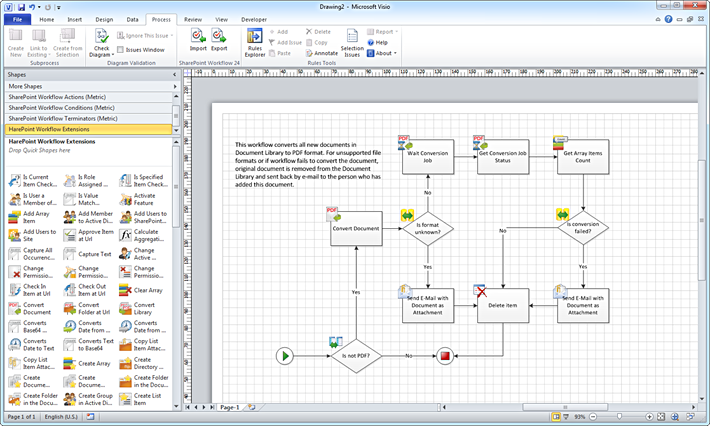 HarePoint Workflow Extensions is an inexpensive simple solution - which supplements SharePoint Designer, Microsoft Visio and Visual Studio with a huge set of "building blocks" providing the most extensive functionality. If this functionality is not sufficient for you, there are building blocks in the product's arsenal that execute compiled C#/VB.NET or PowerShell code. In this way, a tailored solution can be created within a few minutes, and you don't need to understand how to create workflows in Visual Studio or how to program activities for SharePoint Designer. You simply insert a piece of code that does exactly what you need.
Try HarePoint Workflow Extensions and begin to create complex workflows in SharePoint Designer and Microsoft Visio today!
Learn more Download Workflow Examples
HarePoint Content and Workflow Migrator
Most often, the migration process - and this is a real headache for SharePoint administrators - involves exporting the workflow from the test environment into the production environment (choosing some adequate method of export), and then spending a significant amount of time adapting the workflow's settings to the new environment. The administrator in this case is required to know all of the nuances of the workflow to complete this migration. Furthermore, there is the risk of failures and errors that can shut down the normal work of the SharePoint environment.
But these problems can be left in the past, now that HarePoint Content and Workflow Migrator for SharePoint has come to market. This is the ideal solution for simple, quick and error-free migration of even the most complex workflows from one SharePoint environment to another.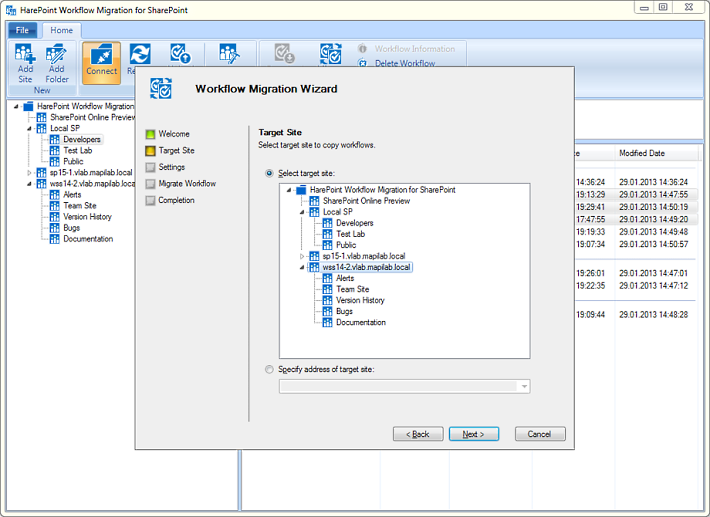 HarePoint Content and Workflow Migrator provides a full set of outstanding features for workflow migration in SharePoint, but the most important ones are: the ability to copy or move SharePoint workflows between any SharePoint sites and between different versions of SharePoint; migration of multiple workflows; and the elimination of post-migration configuration of workflows in most cases.
Try HarePoint Content and Workflow Migrator for SharePoint: error-free workflow transfer and no more headaches!
Learn more Download Screenshots
HarePoint Workflow Monitor
When thousands of workflow instances run on your farm, you start dreaming about an instrument that would give you the opportunity to monitor everything at a glance. And we have created this tool for you!
The product's two main pages - Associations and Activity - provide a unique opportunity to see all workflows on the farm and all active instances of each workflow. With flexible filters, you will not get lost even among thousands of workflow instances.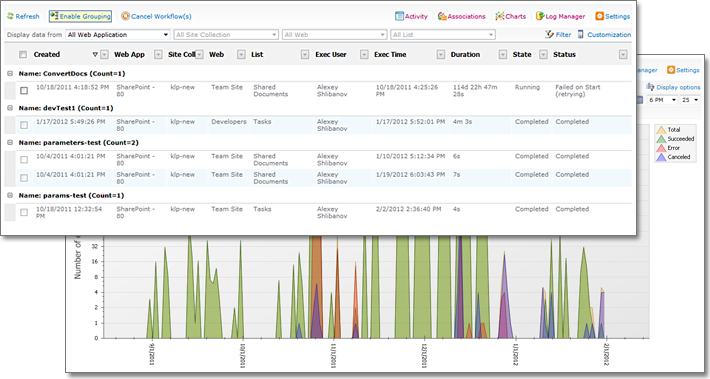 On the Charts page you can see various abnormalities, the time of peak load, or make sure that - thank goodness - everything is going smoothly. You can get all of this in a single glance.
Learn more Download Screenshots
HarePoint Workflow Designer
Try this app with an intelligent visual editor for SharePoint Online and SharePoint 2016 / 2013 on-premises. The product allows you to develop and manage SharePoint workflows right in browser. The handy visual interface represents workflows in flowchart mode and provides all the capabilities for fast and error-free development process that is suitable for experienced users as well as for beginners.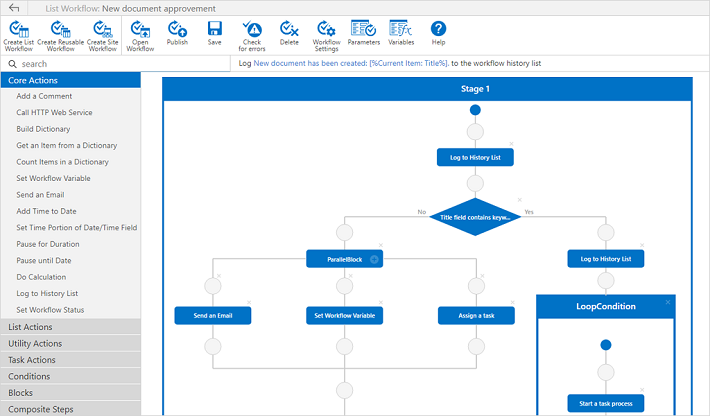 And the most important thing - HarePoint Workflow Designer is a FREEWARE, that is fully free-of-charge for commercial and non-commercial use!
HarePoint Workflow Scheduler
Workflows are so handy, that once you get familiar with them, you'll want to use them again and again, and for a wider range of tasks. Some workflows are recurrent by nature and need to be initiated automatically, for example, on certain days of the week or at the end of a reporting period.
HarePoint Workflow Scheduler is a simple and free software product that allows you to run workflows according to a schedule. But its features do not stop there. The product can run a workflow for a specified item in the list, or a set of items, or even for all items:
With the help of this feature administrators can simulate the load and evaluate the performance of farm servers.
Developers have the unique opportunity to test a workflow on prepared data sets.
Learn more Download Screenshots
Conclusion
You can download all HarePoint products for free and use them without any limitations during the trial period. HarePoint Workflow Designer and HarePoint Workflow Scheduler are cost-free products, licensing is not required. We hope you enjoy them just as much as we do!