08/18/2021
We are proud to present the release of HarePoint Analytics for SharePoint Online - the solution that provides usage analytics and complete insights about your environment to drive productivity and improve user engagement.
Drawing on 13 years of experience producing and constantly improving our well-known Analytics for SharePoint On-premise solution, we now offer a modern, comprehensive and efficient product that can cover all your needs in the web-analytics field and satisfy the requirements across SharePoint Online data collection and analysis.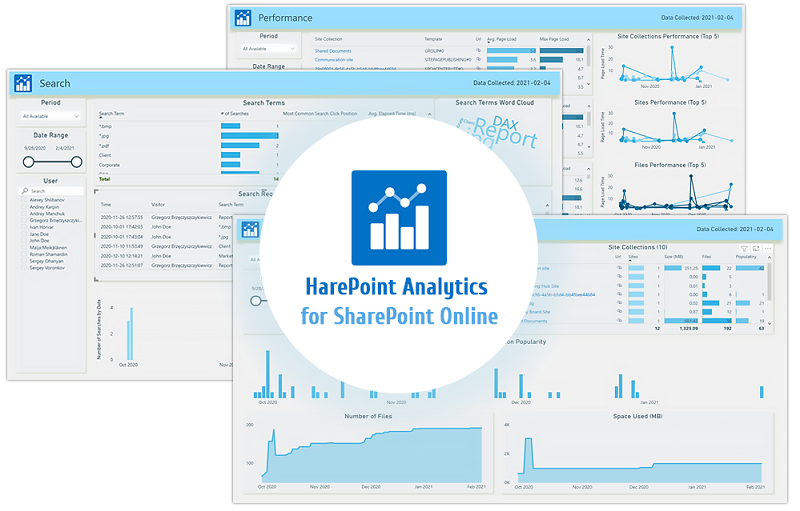 HarePoint Analytics for SharePoint Online provides details of your sites and portals from all angles. The core reports are based on: users (number, behaviour, search usage, activity); content (popularity, out-of-use, dynamics and trends) and site performance (page load time, search efficiency and more).
HarePoint Analytics for SharePoint Online is powered by Microsoft Power BI, a product suite allowing users to collect, analyze, visualize, and share analytical data easily and efficiently. This ensures excellent flexibility in working with reports with a minimal learning curve thanks to the clean and intuitive Power BI interface. Among other major features, the product provides ready-to-use dashboards and reports; a deep level of report integration; advanced filtering, sorting and grouping features; and 'two-click' deployment along with the highest security level.
Being a SaaS product, HarePoint Analytics for SharePoint Online offers flexibility and an efficient subscription model that allows you to get a leading web-analytics tool with solid customer care at minimal expense. Transparent pricing is available on our website and special offers for educational and non-profit foundations can be applied as well.
You are welcome to start your acquaintance and exploration of HarePoint Analytics for SharePoint Online by visiting the solution homepage, scheduling a product demo for you and your team, or activating a free trial subscription. And as always, our team is ready to assist you with any related questions.