We are glad to present a new version of HarePoint HelpDesk - the engine of an efficient, fully-functional helpdesk solution running completely inside your SharePoint environment.
The major improvement in this new version is that HarePoint HelpDesk is now mobile-friendly!
Modern times involve more and more people in remote working arrangements, creating a need to manage daily tasks across all devices - PCs, smartphones, tablets, and other gadgets. This statement is especially true for support desk teams in companies and organizations as they are frequently working out-of-office but still need to provide the fastest and most exact resolution for the user or customer.
HarePoint HelpDesk provides the full range of this functionality. The new mobile UI in the solution allows access to tickets, changing them, leave responses, as well as creating and closing tickets, adding attachments, and operating with all the other functionality of the product. The mobile interface fully supports both users and technicians, who can re-assign, escalate, and perform other operations on incoming tickets.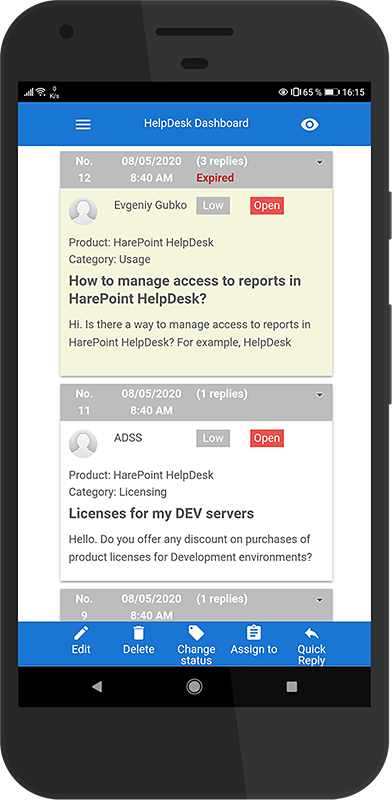 There are two ways to provide mobile-friendly functionality: use a separate helpdesk mobile app, or offer a browser-based model. Sometimes the two ways can be combined, allowing the user to choose which is more convenient. Our vision and experience in this field lead us to recommend the second option – the browser-based model. The advantages are obvious – the user gets the quality and reliability of a product that has been shaped to fit users' needs for over 7 years; users do not need to install any additional apps on their devices; the user gets a cross-browser solution automatically, and the user doesn't pay for extra development and maintenance.
We believe the HarePoint HelpDesk for SharePoint with the new mobile UI provides great opportunities for optimization of your working processes on the go and allows you to satisfy the requests of your users and customers with the highest level of quality and comfort.
Other helpful improvements in the new version of HelpDesk include:
Refined ticket re-opening process, including a feature to reopen automatically after getting a reply message to a ticket that is marked as closed.
Products can be combined in categories now. Categories can be set in product properties and there is support of filtration by category.
Notifications for hidden comments for technicians are available now.
Technicians can set up, manage, and use pre-defined templates for ticket creation.
Manage Signatures option is available now: technicians can compose, manage, forbid signature, create a general signature, and so on.
The complete list of changes and fixes can be reviewed on the product's Version History page.
You are welcome to update the product at the HarePoint HelpDesk for SharePoint homepage.