12/08/2015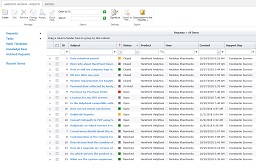 Meet the new version of our advanced ticketing solution, an excellent tool for customer service or for use as a helpdesk inside your SharePoint environment.
The main improvement in version 15.6​.0.0 of the product is ticket archiving. Over time, the HelpDesk accumulates large volumes of closed, resolved, or out-of-date tickets that are not regularly needed but may be required for future reference. Such a huge volume of data can cause issues with the performance of the system. To avoid these problems and to optimize performance, HarePoint HelpDesk now provides way to store and manage old ticket requests by moving them to an archive. Archived requests can be quickly and easily viewed by technicians; and restored to the main list if required.
Detailed information about request archiving (including its features and limitations) is available in the product's Admin Guide.
Other important improvements in the new version of the helpdesk include:
new Site Feature that removes the 5000-element list view limit for the HelpDesk site without turning off the parameter for the whole web application.
the algorithm for sending notifications to HelpDesk site administrators has been changed in cases where the Administrator belongs to the Viewer group in the HelpDesk site.
You are welcome to view the full information about the new version or to update the software via the HarePoint HelpDesk for SharePoint homepage.​​​​​​​​​​​​