07/21/2021
We are glad to present a new version of HarePoint Analytics - the efficient reporting and analytical solution for your SharePoint sites, users behavior, and content usage.
The updated version of the product provides you great features such as managing and viewing SharePoint usage data collected by HarePoint Analytics in Microsoft Power BI.
Power BI is a powerful business intelligence and data visualization solution (including a wide collection of cloud-based apps, services and connectors) from Microsoft for converting data from various data sources into interactive dashboards and analytic reports. The end-users easily get, manage, analyse and share data from various sources in user-friendly interface. Being officially released in 2014, now Microsoft Power BI provides a set of proven advantages and features for users such as: pre-built dashboards and reports, real-time dashboard updates, secure and reliable connection to data sources, data visualization, usage in hybrid environments and many others.
Now you can use Power BI as an alternate way to create, manage and view reports from HarePoint Analytics. You just need to have the Power Bi Desktop installed, connect a HarePoint Analytics database as a datasource, and you will obtain a set of dashboards that provide comprehensive details regarding your SharePoint environment:
Infrastructure: farm-wide statistics
Site collections: all site collections and their sites
Sites: all sites and their pages
Visits: visits statistics
Users: users activity details
Documents: all document libraries and documents in them
List Items: all lists and their list items
Search: search usage details
Performance: server performance reports
Social: statistics for using social features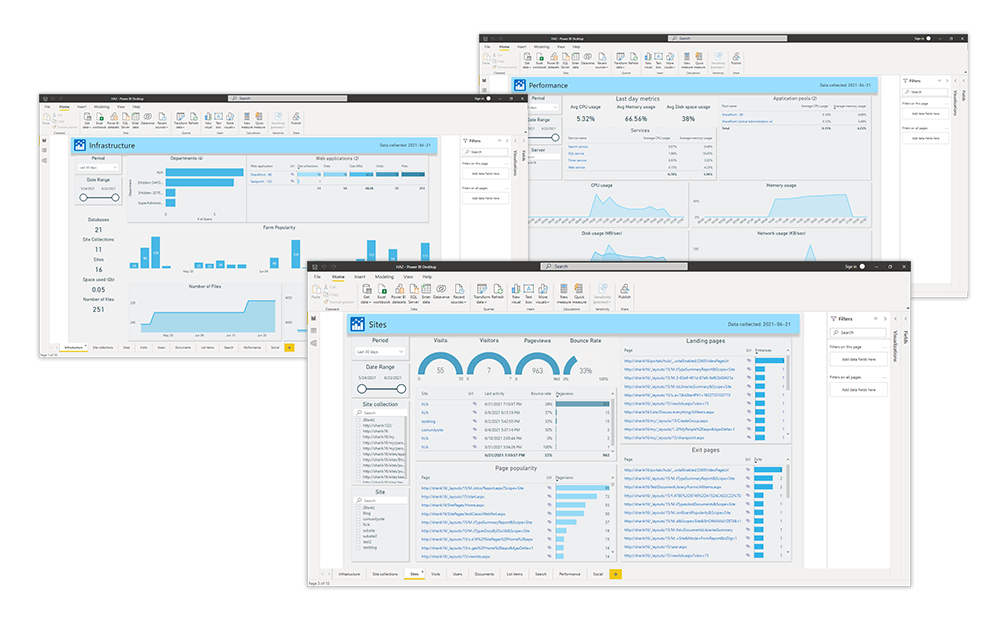 Important note: if you are considering moving to SharePoint Online, we are happy to offer you our HarePoint Analytics for SharePoint Online, which is tightly integrated with Power BI. In this case, your migration will have minimal impact on your end-users – their experience with the product's features and interface will not change.
There are also a couple of new features and improvements in the presented version; you can review the complete list of changes here.
You are welcome to get the new version of the product on the HarePoint Analytics for SharePoint homepage and our team will gladly help with all your further questions.