11/13/2017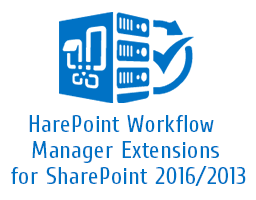 We would like to introduce our new product: HarePoint Workflow Manager Extensions for SharePoint 2016 / 2013 - the solution that provides more than 180 actions and conditions for workflows authoring over 2013 workflow platform.
Out first set of workflow activities - HarePoint Workflow Extensions - was released in 2011 and it supports 2010 workflow platform only. A new 2013 workflow platform has been introduced in SharePoint 2013 and covered the known weak points of the 2010 platform, as well as introduces new features and capabilities. The platform differences are reviewed in the corresponded article 'Workflows and workflow extensions in SharePoint'. We have also reviewed our both our on-premise workflow authoring solutions for 2013 and 2010 platforms there.
So, what can you find in the new HarePoint Workflow Manager Extensions for SharePoint 2016 / 2013?
First of all, it's a set of 180+ custom actions in 16 different groups (Administration, Document Libraries, Lists, E-Mail, Images, Network, Office and other), you are welcome to review the full list of included activities with descriptions. As usual, the custom actions in the product can be used in combination with the out-of-the-box actions both in new and existing workflows. And of course we will enrich the product's functionality with new actions in the nearest future.
Secondly, our principle - 'work with the known tools' - has been completely realized. The custom actions are added to SharePoint Designer and users are ready to build workflows immediately after product deployment, without the need to learn new interfaces and functionality.
Finally, we offer full-functional 30 day free trial and reasonable licensing (including the set of free activities, when you will not be charged at all).
For the current users of HarePoint Workflow Extensions (2010 workflow platform), who would like to deploy and use HarePoint Workflow Manager Extensions, we provide special conditions for licensing - please contact our sales team for details.
You are welcome to find all details regarding new product and download the software at the HarePoint Workflow Manager Extensions for SharePoint 2016 / 2013 homepage.