10/02/2014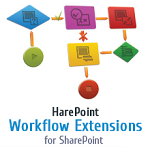 ​​ We would like to announce a new version of our HarePoint Workflow Extensions - a renown solution for workflow authoring in SharePoint 2013 and 2010. The product's 250+ workflow activities allow you to create a workflow of any virtually complexity and automate any process in your SharePoint environment.
The new version of the product provides these new activities:
Evaluate Mathematical Expression: allows a specified mathematical expression to be evaluated.
Get XMP Property / Set XMP Property: supports operation with a specified XMP metadata property.
Create Mail Contact in Active Directory: creates a new mail contact with specified parameters.
You are welcome to review a full list of product's workflow activities.
There is also a range of significant improvements:
'Update List Item at URL' action can process multiple items now;
a new option, 'Impersonate,' has been added to the 'Set EWS Options' action;
'Create List Item at Url' and 'Update List Item at Url' actions support managed metadata now;
'Copy Document to list item attachment' activity allows copying of multiple documents.
You can update the product from the HarePoint Workflow Extensions homepage.