01/13/2017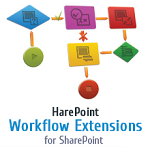 HarePoint Workflow Extensions solution offers over 300 ready-to-use workflow actions for workflow authoring in Microsoft SharePoint Designer and Microsoft Visio.
10 new workflow actions in the new Taxonomy category have been added in a new version of the software. The workflow activities from this category allows to create and manage terms, groups and term sets in SharePoint Taxonomy Term Store.
There are more changes and new activities in this new version of the product:
New workflow action added: Create Host Named Site Collection.
Now you can encrypt the SQL Connection String;
Copy/Move Document actions now preserves creation and modification date as well as author and last modified person;
Add/Remove Member from Active Directory Group now can add or remove user from multiple groups;
Send Email action now supports Follow-Up and Reminder messages;
Download Documents to Folder action now supports CAML;
Get Office Document Property now supports custom properties;
Better handling of long running PowerShell scripts.
Full list of HarePoint Workflow Extensions actions can be reviewed here.
You are welcome to download a new version of the product on HarePoint Workflow Extensions homepage.