10/27/2017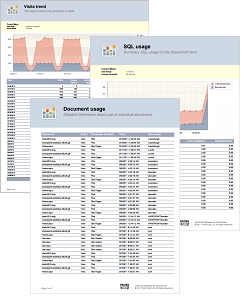 HarePoint Analytics for SharePoint is a software solution that supports both business- and IT-management by providing a wide range of statistics about SharePoint site utilization. The 90+ reports included in the product will give you detailed information about site visitors and their behaviour, traffic flows, content popularity and relevance, document usage and much more. You are welcome to review the full list of HarePoint Analytics for SharePoint reports.
The presented version does not contain new features. Rather, this update is the result of our work aimed at optimization of product performance (processing user hits, custom fields utilization, collection of document statistics and many other features). There is also a set of non-critical fixes related to the data collection and the report authoring process. The full list of changes for both editions of the product (2016 and 2013) is available on the HarePoint Analytics for SharePoint version history page.
We are also glad to announce that the next version of Analytics that will be released in January 2018. The main (and surely the most significant) addition in the upcoming release is a completely new group of reports - Social Reporting. The weighty role of social networking in modern business and deep integration of SharePoint portals with social features and services point toward the importance of these statistics for understanding how social networking affects daily processes and ways to optimize this activity to achieve higher efficiency. We will offer reports that cover such aspects as post and comment popularity, discussion board usage, "Likes", followers and other aspects of social interaction.
You are welcome to get the new version of the product at the HarePoint Analytics for SharePoint homepage.​​