03/15/2018
We would like to introduce a new version of our 'top' solution for gathering analytics data and reports about your SharePoint sites utilization and efficiency. The collection of more than 90 reports (that cover detailed aspects of visitors and their behavior, traffic flows, content popularity and relevance, and document usage) has been extended with a new group of reports - reports for SharePoint Social Features.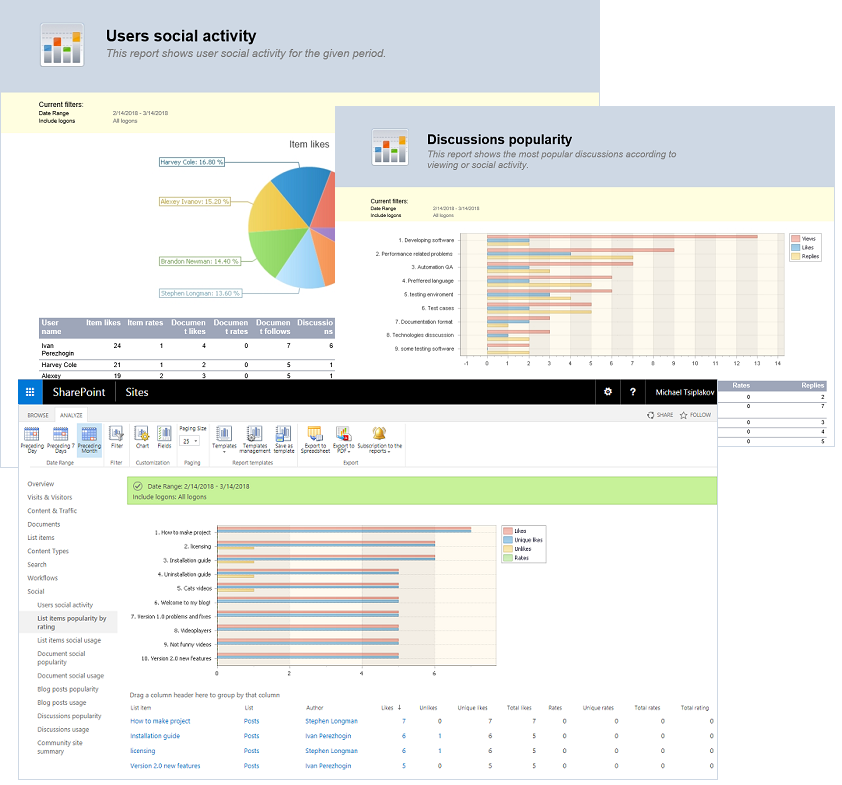 There are different points of view concerning the role and influence of 'social' interactions in the modern business environment, whether generally or in the specified business team particularly, but there is one obvious fact - social networking with all its facets and behaviour models is part of our lives, including business activity, team management and so on. So if you have any kind of business infrastructure based on the SharePoint platform (primarily we mean corporate intranet or internet), we can be 99% sure that you and your team are involved into social collaboration and interaction.
Another fact that confirms this vision is the progress of social features in Microsoft SharePoint over time - the first elements being 'Ratings' or 'Bookmarklets' presented in SharePoint 2010 and now, in SharePoint 2016, we have a whole set of well-accepted tools and features for social activity: discussions, blogs, communities, etc. There is the opinion that the upcoming SharePoint 2019 will bring some surprises in the 'social' field too.
Checking user requests regarding SharePoint social features reporting over the last few years, we decided that the time has come to offer this functionality in HarePoint Analytics for SharePoint and we are pleased to report that it has been successfully done.
Our idea is quite simple and efficient - different users have various needs in 'social reporting', but the most common request can be defined as a set of reports that allows understanding the situation with social interactions in the company, detecting the relationships (hot points, dead ends, and associations) between site content and team members' reactions and behavior.
The presented version of HarePoint Analytics offers you the following reports on SharePoint Social Features:
Users social activity: key 'social' indicators (rates, likes, posts, comments, followings, etc.) for each visitor / user for the given SharePoint site or site-collection.
List items popularity by rating and List items social usage: the status of list items as it pertains to relevance and audience recognition of list items.
Documents social popularity and Documents social usage: the situation with relevance and audience recognition of published documents - rating, social events (likes, dislikes, follows) of the document, etc.
Blog posts popularity and Blog posts usage: illustrate the situation with blog posts - rating, popularity, comments, updates, etc.
Discussions popularity and Discussions usage: show the social interactions related to discussions: popularity, replies, views, updates, likes, etc.
Community site summary: this report contains summarized information about Community sites usage: number of members, joins, discussions, etc.
As usual, all our users who have 'active' license services (maintenance and version updates), are welcome to get the new version of the product on the HarePoint Analytics for SharePoint homepage. If you are not sure about the current status of you license services, you can contact our sales team for further clarification.