08/31/2017
HarePoint Workflow Extensions solution offers over 300 ready-to-use actions for workflow authoring in Microsoft SharePoint Designer and Microsoft Visio.
We are glad to present Version 2.10, with a broad range of changes and new action Get Site Property. Now you can use the following data to create custom SharePoint workflows:
Created - date and time of site creation in UTC.
Description - site description.
Last item modified - date and time in UTC when anything on that site has been modified.
Title - the site title.
Web template - the name of the template that was used to create the site.

In the Set Date Constant workflow action, we added a number of new options to initialize date/time variables: Beginning/End of last week/month/year.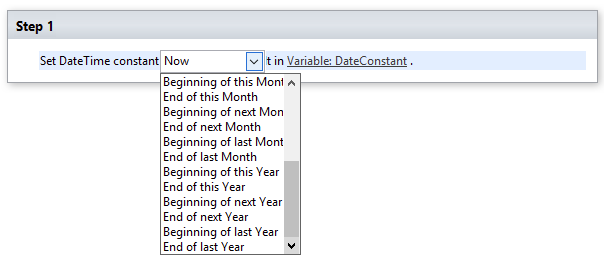 The updated Create SharePoint Site Collection action now offers an option to use custom site templates located on any site of site collection. Moreover, it can now automatically activate site features of the selected custom site template.
There are more changes in this version of the product:
IMAP related SharePoint activities now support explicit SSL.
Update List Item on Different Farm action now can change content type of the specified list item.
Create List Item at Url now can create multiple items at once using XML syntax.
Create List Item at Url action now supports checkboxes with multi-select.
Action Create List Item at Url has been updated to avoid On Create workflow launch before all item properties are filled.
Feature activation in Create Site action has been fixed.
Bug in Find Interval Between Dates action has been fixed.
Bug in Convert Text Case Action when using Title Case has been fixed.
Bug in Create List Item and Create List Item on Different Farm actions has been fixed.
Bug in Download Documents to Folder action has been fixed.
You can download the latest version of the product from the HarePoint Workflow Extensions page or request a live presentation of the product.