04/05/2017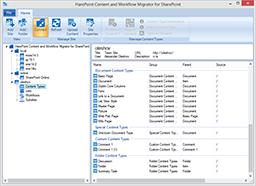 We would like to announce a new version of HarePoint Content and Workflow Migrator for SharePoint – an efficient solution for routine migration tasks in different SharePoint environments.
The main improvement in the current version (v.3.0) is full support of the SharePoint 2013 workflow platform. This means that workflows created on the 2013 platform can be easily transferred between supported SharePoint editions/versions (2016, 2013, O365).
HarePoint Content and Workflow Migrator not only allows moving SharePoint workflows, but all general SharePoint objects can be migrated as well: lists, document libraries, content types and Taxonomy objects. It's important to note that the concept of 'migration' also includes upload/download of files to and from local storages.
Concerning workflows migration facilities in the product, the following 'must-have' features can be highlighted:
the migration process is maximally simplified: the user just needs to specify the source, destination and objects of migration, then authorize and just drag'n'drop the required workflows.
the configuration of workflows is automatised in most cases and you will not need to adjust any settings after migration.
multiple workflows migration feature - move a number of workflows with the assistance of a handy wizard.
it's possible to import/export workflows to and from a file.
We also would like to offer you related reading about HarePoint Content and Workflow Migrator, this article covers how to choose an ideal solution for your daily migration operations in SharePoint according to a 'features-pricing' ratio.
You are welcome to download a free 30-day trial or update your version of the product in the HarePoint Content and Workflow Migrator homepage.