11/05/2014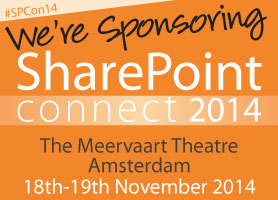 HarePoint will participate in the exhibition that will be held within the SharePoint Connect 2014 at the 18 - 19 November, in the Meervaart Theatre in Amsterdam, The Netherlands.
As always the event's content will be the latest news, updates, tips & tricks about SharePoint to IT Pro's, End Users, Developers and Business Managers delivered by independent and Microsoft SharePoint experts.
HarePoint is a proud sponsor of this event and we will present our award-winning solutions for SharePoint: HarePoint Analytics; HarePoint HelpDesk; HarePoint Workflow Extensions; and HarePoint Content and Workflow Migrator.
You are welcome to visit the HarePoint booth #20, where our team would like to demonstrate the products in action, tell about features of the products, as well as to consult about deployment and licensing.