07/23/2020
We are glad to present a new version of HarePoint Analytics for SharePoint, the award-winning solution that provides comprehensive analytics across your On-premise SharePoint environment.
The new version of the solution contains a whole list of new features and highly demanded updates and improvements.
Firstly, you are welcome to place and use the software reports on the Modern Pages in SharePoint 2016 and 2019. The 'modern experience' concept in Microsoft SharePoint has been presented in 2016 and is assumed to make the platform more user-oriented, flexible, and performant. The general principles of modern experience in SharePoint can be described as compelling sites, mobile-friendly, flexible organized, social-oriented (included deep integration with Microsoft Teams), more, etc. Though Microsoft is very clear that they are not turning off classic sites any time soon, the list above suggests that classic sites will be eventually moved to the modern ones without alternates.
Considering this fact, we added Modern Page compatibility for HarePoint Analytics reports in the presented version of the software. In the next product release we plan to rebuild the Analytics dashboard for the modern experience compatibility as well. We hope you will get the positive experience operating with the product in the Modern UI: new controls, new views, more handy web-part settings - everything is ready to enhance your web-analytics practice.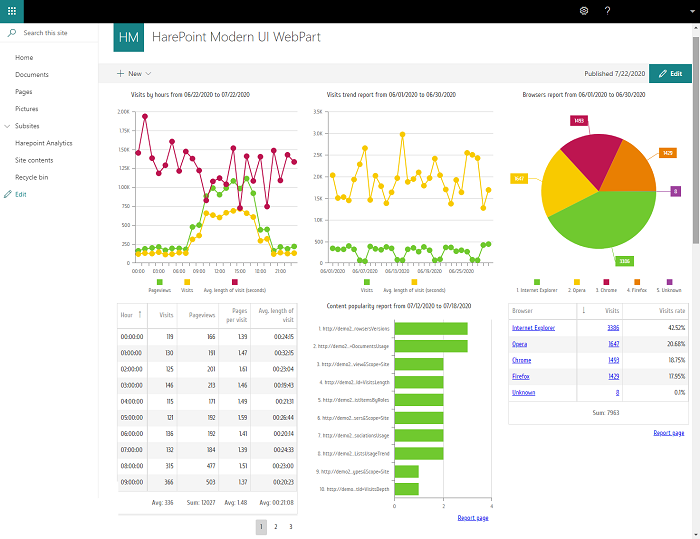 The next improvement is the update to solution parsers that process collected browsers, platforms, and mobile devices data. For example, 'Mobile devices' report includes 'Vendor' column now. All these details allow you to get the maximum information about your audience to improve their adoption and satisfaction.
We have also added "Bounces" and "Bounce rate" fields for "Sites summary" report in site collection level as well as in 'Site collection summary' and 'Sites summary' in farm-level reports to provide you insights for better estimation of content-audience interaction.
You can review the full list of the improvements and fixes in the new version and download the updated version of the product on the HarePoint Analytics for SharePoint homepage.