04/11/2017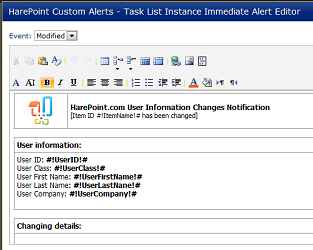 The HarePoint team proudly announces a new version (v.1.2) of HarePoint Custom Alerts for SharePoint. This solution lets you create customized alerts and email notifications for changes in specified documents, tasks, and files in SharePoint lists and libraries.
The new version of the product is fully compatible with Microsoft SharePoint Server 2016.
The product's main distinguishing feature from SharePoint's out-of-the-box alert feature is the high level of customization that is easily achieved in alerts and notifications using HarePoint Custom Alerts, making them suitable to your precise needs. For example, you can display both the old and new value of the changed item, set the frequency of your own notifications or get a unique and informative subject line. The product allows creation of individual templates for any SP list, library or type of event.
The smart HTML-editor makes the process of template creation easy and convenient. Another important attribute that makes the product more usable is that it does not require elevated permissions. HarePoint Custom Alerts are available for use to any site-owner, farm-admin permissions are not required.
You can download the new version of the product on the HarePoint Custom Alerts homepage.