01/19/2015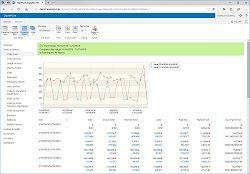 HarePoint Analytics for SharePoint is a software solution that covers all needs in analytical and statistical data regarding SharePoint sites and portals usage. The analytical information performed by the product allows you to enhance sites usability, optimize content placing and usage, boost your team performance and business productivity.
The new versions of the product (both for SharePoint 2013 and 2010) have:
New, optimized dashboard.
Optimized speed of data processing speed for the most demanded reports ("Visitor trends", "Browsers", "Platforms", "Visits length", "Visits depth", "Geolocation", "Mobile devices", etc.).
New column "Downloaded" added in "Documents by type", "Documents by users", "Documents by SPGroups" reports.
Reports on usage of the search are now available on the Farm scope.
Progress bar for the "Report data preprocessor" timer job is adjusted to display data processing flow more precisely.
New report about User Profile Data completion.
A range of other changes and optimizations.
You are welcome to update the software on HarePoint Analytics for SharePoint homepage.​​