12/08/2016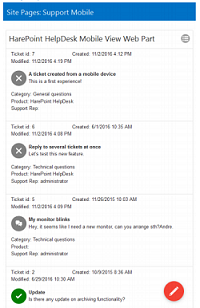 We would like to inform you that a new version of HarePoint HelpDesk for SharePoint has been released! HarePoint HelpDesk is a unique solution for your SharePoint environment that lets you construct a complete ticketing system in your farm in minutes and manage it easily and efficiently to organize the full processing cycle of user requests in the most optimal way.
In the new 16.1 version of HarePoint HelpDesk:
Mobile version of solution's web part allows user to place their requests via mobile interfaces and allows to technicians too receive and process requests on mobile devices. This is an absolutely 'must-have' feature for anyone who frequently accesses SharePoint sites by mobile device.
Notification features have been significantly improved.
German documentation is available; German UI also has been corrected and improved.
You can review the full list of new version improvements and features.
You are welcome to update the software on HarePoint HelpDesk for SharePoint homepage.​​​