05/24/2011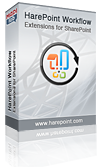 MAPILab would like to announce a new software product: HarePoint Workflow Extensions for SharePoint 2010.
HarePoint Workflow Extensions considerably extends users' abilities for workflow authoring in Microsoft SharePoint Designer and Microsoft Visio.
The HarePoint Workflow Extensions software offers over 130 ready-to-use workflow actions for different purposes. You could review all workflow actions included in the product here.
There is a set of free activities in the product. When product trial expires, you can continue using more than 20 activities for free, without any additional costs. Detailed licensing information can be found at the product homepage.
30-day trial version of HarePoint Workflow Extensions is available for download from the product homepage.