07/25/2011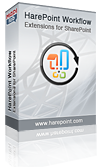 \ HarePoint Workflow Extensions solution offers over 160 ready-to-use workflow actions for workflow authoring in Microsoft SharePoint Designer and Microsoft Visio. More 30 new workflow actions in 4 new categories have been added in a new (1.2) version of the software:
Development activities: these activities allow to execute just-in-time compiled C# or VB.NET code, work with SQL databases and XML.
Images activities: 13 activities for image processing, conversion and resizing, getting EXIP properties and much more.
Office activities: the activities from this group can read and write Microsoft Office documents. They can be used for generation of bills and invoices, filling forms and addresses on envelopes within a workflow.
Workflow activities: the ability to start workflows expands the logic of your workflow with cycles and recursion. Maybe it's not so easy as use 'WHILE' or 'FOREACH', but it is possible now too!
Full list of HarePoint Workflow Extensions actions can be reviewed here.
We also extended the set of free activities in the product. All activities from "Date and Time" category are free for usage! With activities of "Data and Time" group you can initialize Date/Time variables with values like "End of This Month" or "Beginning of Next Year", converts dates to strings with rich formatting options, and perform some other operations.
30-day trial version of HarePoint Workflow Extensions is available for download from the product home page.