07/31/2014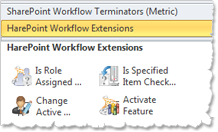 We are glad to inform you that a new version of HarePoint Workflow Extensions has been released. HarePoint Workflow Extensions is an essential solution for S​harePoint that provides 250 ready-to-use workflow activities (actions and conditions) for authoring SharePoint workflows.
In the new version of the product, we added 4 new activities: Create Site Column; Create Content Type; Add Existing Column to Content Type; and Set Content Type Document Template - these actions allow a number of operations with columns and content types on SharePoint sites. Detailed information about these new actions is available in the 'List of of workflow actions in HarePoint Workflow Extensions'.
The new version can be downloaded from the product homepage.