03/19/2015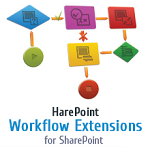 ​​ We would like to announce a new version of our HarePoint Workflow Extensions - workflow authoring solution for SharePoint 2013 and 2010. The product's 260+ workflow activities allow you to create a workflow of any virtually complexity and automate any process in your SharePoint environment.
A new version of the product includes a number of new activities, the most significant ones are:
Add Watermark To PDF Document
Add Custom Headers To Email
Create Document Set in the Document Library
Get Workflow Task Property / Update Workflow Task at Url
Also some existed workflow activities (10 items totally) have been updated and improved:
Action Convert InfoPath Form and Save to Document Library now uses workflow initiator user account to save converted document.
Action Create List Item at URL has been updated to allow set the value of a lookup field.
New option 'Show on Quick Launch' has been added into Create List action.
You are welcome to review a full list of product's activities and update the product from the HarePoint Workflow Extensions homepage.​​