07/20/2017
We would like to announce a new version of HarePoint Content and Workflow Migrator for SharePoint – an efficient solution for routine migration tasks to and from different SharePoint environments.
HarePoint Content and Workflow Migrator not only allows moving SharePoint workflows, but all common SharePoint objects can be migrated as well: lists, document libraries, content types and Taxonomy objects. It's important to note that the concept of 'migration' also includes upload/download of files to and from local storage.
Our team is continuously working with user requests in order to fulfill all possible client needs during the migration between different SharePoint servers.
The latest build includes an impressive number of changes and improvements, some of the most important new features are:
SharePoint List permission migration
In the previous version of HarePoint Content and Workflow Migrator for SharePoint permissions in the new location were inherited from the new site. Now you have an additional option that allows keeping of the original permissions settings. Just use the "Copy permissions" checkbox in the List Migration Wizard.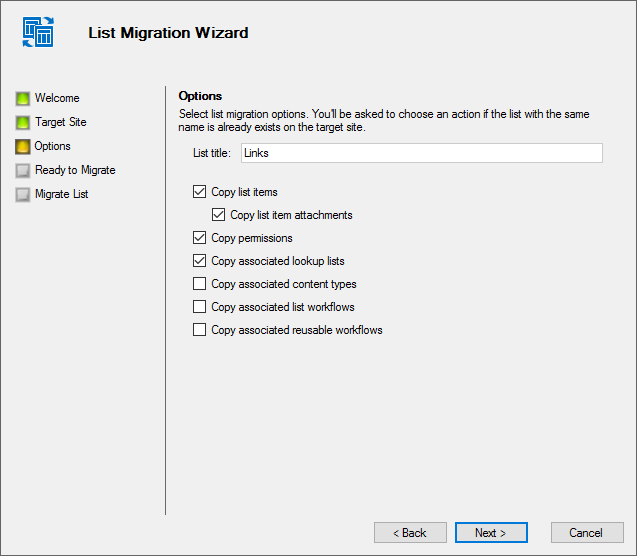 SharePoint Wiki library Start Page migration
One more new feature is that HarePoint Content and Workflow Migrator now can keep SharePoint Wiki Library Start Page property you migrate it to a new server.
More changes in the latest version:
Fixed bug when copying a reusable workflow with custom associated columns.
Fixed bug with list items duplication in SharePoint Online.
Fixed bug when copying the lookup-column that refers to a deleted list.
Fixed bug when the View with a deleted column is migrated.
Now you can use the Page URL from the Browser in the settings. HarePoint Content and Workflow Migrator will find it and use the correct Site URL automatically. Works with SharePoint 2013 only.
Fixed bug with showing a wrong number in SPList.ItemsCount property after migration.
Fixed: View files are put into Checked In status after migration.
Improved user search during the migration using Login Name and Display Name while ignoring Domain.
Fixed list migration issues occurred when migrating from SharePoint Online to SharePoint 2010.
New dialog with Retry button in case a required document was not downloaded during the export of a Document Library as a Zip File.
CSOM library updated to the latest version.
You can download the full-functionally 30-day trial to install and test in your environment.
The main driver of HarePoint Content and Workflow Migrator is feedback from our user base! Please let us know what could be better about our product and we will be happy to consider your suggestions.