03/23/2022
We are proud to present a new version of HarePoint Analytics for SharePoint Online - an outstanding and smart solution that provides you with comprehensive insights about your SP Online sites and user activities.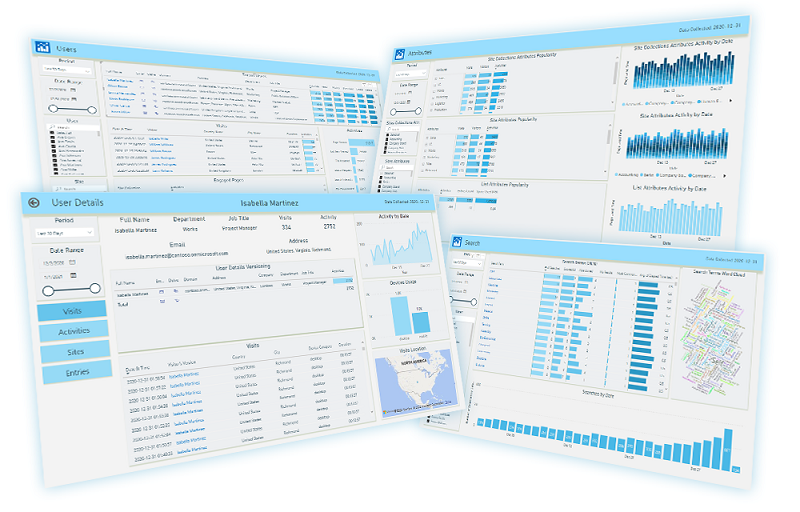 What's new in this version?
Firstly, there is a new report, User Details. It gathers essential information that allows you to explore user activity in great detail; like under a magnifying glass: device and gadget types; visits and visit details; and activity locations. Overviews of the complete list of activities for specified users; tracking user activity over sites and sites collections; and user activities over files from document libraries and list items are now at your fingertips. We are planning to expand the objects available in this report in future product versions to achieve the most comprehensive possible understanding of your users along with exclusive analytics.
Secondly, there is another new report - Custom Attributes created in response to users' direct feedback. This report allows grouping site collections, sites, lists, and libraries in one row in the Power BI dashboard report by their attributes. For example, you can group your sites by their locations or company divisions to evaluate their engagement in the corporate environment.
Further, we refined Search and Search Details reports to provide more insight into searches that produced zero results and searches with results but without subsequent visits (clicks). These details can assist you in identifying possible bottlenecks and undertaking actions to increase search effectiveness.
Finally, the UI of the solution's Client Portal (https://analytics.harepoint365.com/) has been significantly re-designed to be more user-friendly and simpler to use.
All the improvements and features described above can be reviewed in detail in the product documentation. You are also always welcome to update the solution on the HarePoint Analytics for SharePoint Online homepage.