07/22/2015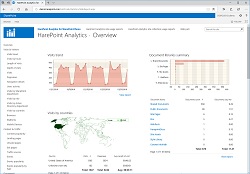 HarePoint Analytics for SharePoint is a software solution that provides analytical and statistical reports about SharePoint sites and portals usage to optimize content placement and usage; boost team performance and enhance business productivity.
The new versions of the product (both for SharePoint 2013 and 2010):
'Pageviews' report is fixed for the cases when users with incorrect Visitor ID is collected and displayed in the report.
'Users Activity' report is optimized.
New options for managing export of the URLs in reports as PDF and XLS files.
Diagnostic utility updated.
You are welcome to view all changes in new versions or update the HarePoint Analytics for SharePoint.